One great memory I take away from the International Astronautical Congress which occurred in Toronto last week was the Planetary Radio taping of a special episode celebrating Canada's achievements in space exploration.
The Planetary Society has been focusing on growing Canadian membership since last winter. The not for profit group, which has 40,000 members, used the opportunity of International Astronautical Congress 2014 in Toronto to tape an episode of its weekly podcast Planetary Radio at the University of Toronto which focused on Canada's achievements in space.
The event was formally subtitled "We See Thee Rise" in reference to a line from Canada's national anthem. However some funnier but rejected subtitles included "Space: Canada's Hat", "Space: North by North North", and my two favourites: "Space: Canada 2 – Bigger, Colder, Emptier" and "In Space No-one Can Hear You Apologize".
CEO of the Planetary Society Bill Nye (aka "Bill Nye the Science Guy"), was present along with Planetary Radio host Mat Kaplan and led a great panel of Canadian space experts consisting of space and science writer Elizabeth Howell, University of Western Ontario planetary geologist Dr. Gordon "Oz" Osinski, and CSA Astronaut Jeremy Hansen. Kate Howells was the organizing force behind the event and of the Canadian branch of the Planetary Society.
The presence of Bill Nye and the panel members resulted in the hall (with a capacity of 1700 people) being completely full. It was inspiring to see such a long line of young students all excited to be part of the event.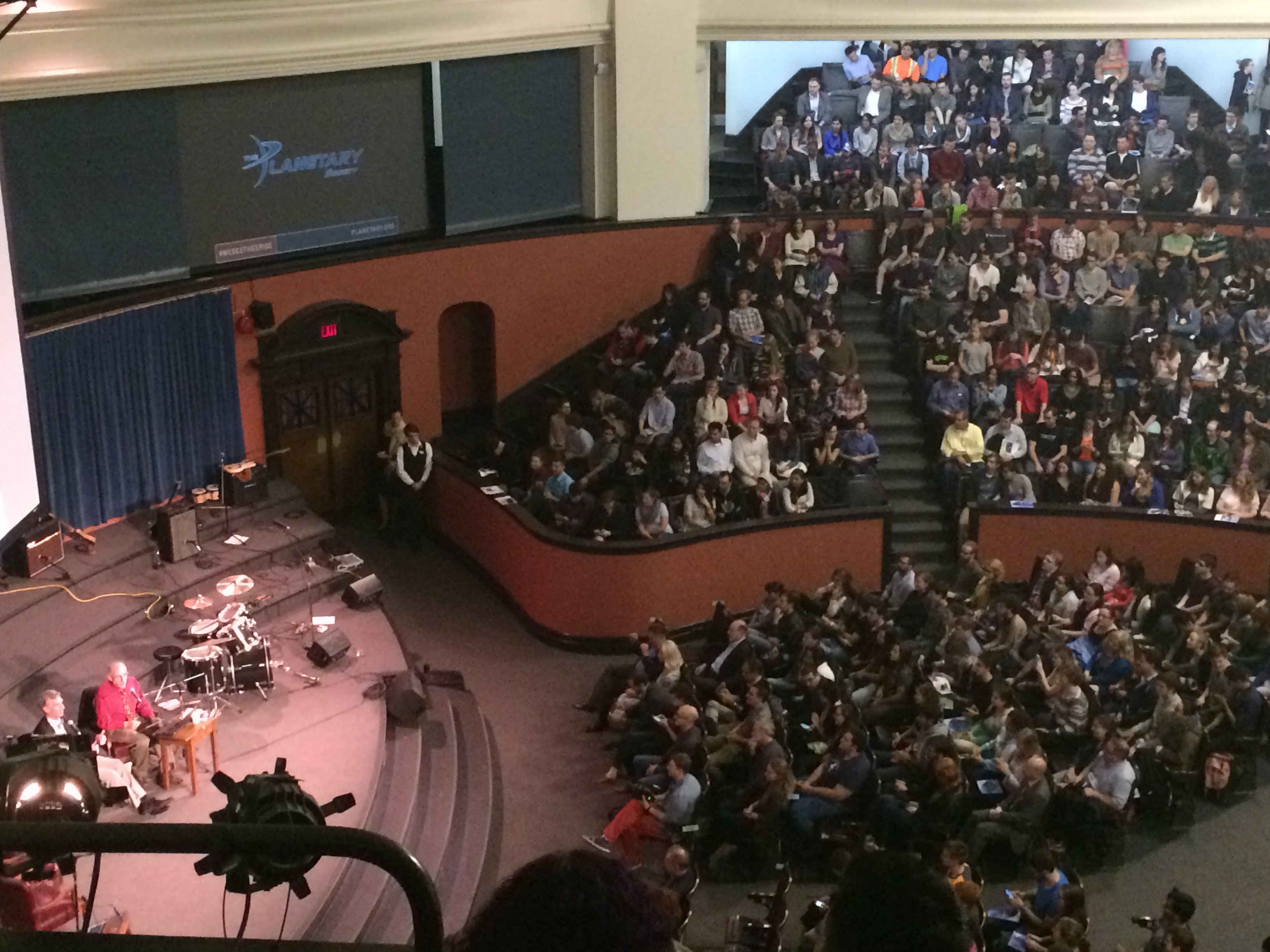 The show itself was very funny. Bill Nye revved up the crowd with hilarious impressions and anecdotes, and then once things got going the crowd provided a loud celebratory backdrop to the panel guests. By all accounts the taping was a great success and is available on their website as a podcast.
Bill Nye repeatedly mentioned how impressed he is that Canada places its space achievements so prominently on its $5 bill – he thinks that is remarkable.
The panel was able to explain to the enthusiastic audience how many achievements Canada had made as a space-faring nation, and speculate as to what our future achievements could (and should) be. Canadian achievements include being the third nation to put a satellite into orbit; the creation of Canadarm, Canadarm 2, and now Dextre; the achievements of our Astronaut corps; rover instrumentation for Mars exploration; and many other contributions to the international space community. The event was a great way to publicize our nation's contributions and impressive space legacy and hopefully inspire the students who attended.
Following the event there was a Planetary Society reception at University of Toronto's Hart House where guests were able to mingle with the hosts and panel members.
All in all it was a very memorable evening made even more special and enjoyable by the huge response from hundreds of young attendees, who we can hope represent the future leaders and supporters of Canada's space industry.
Edited with BlogPad Pro
Summary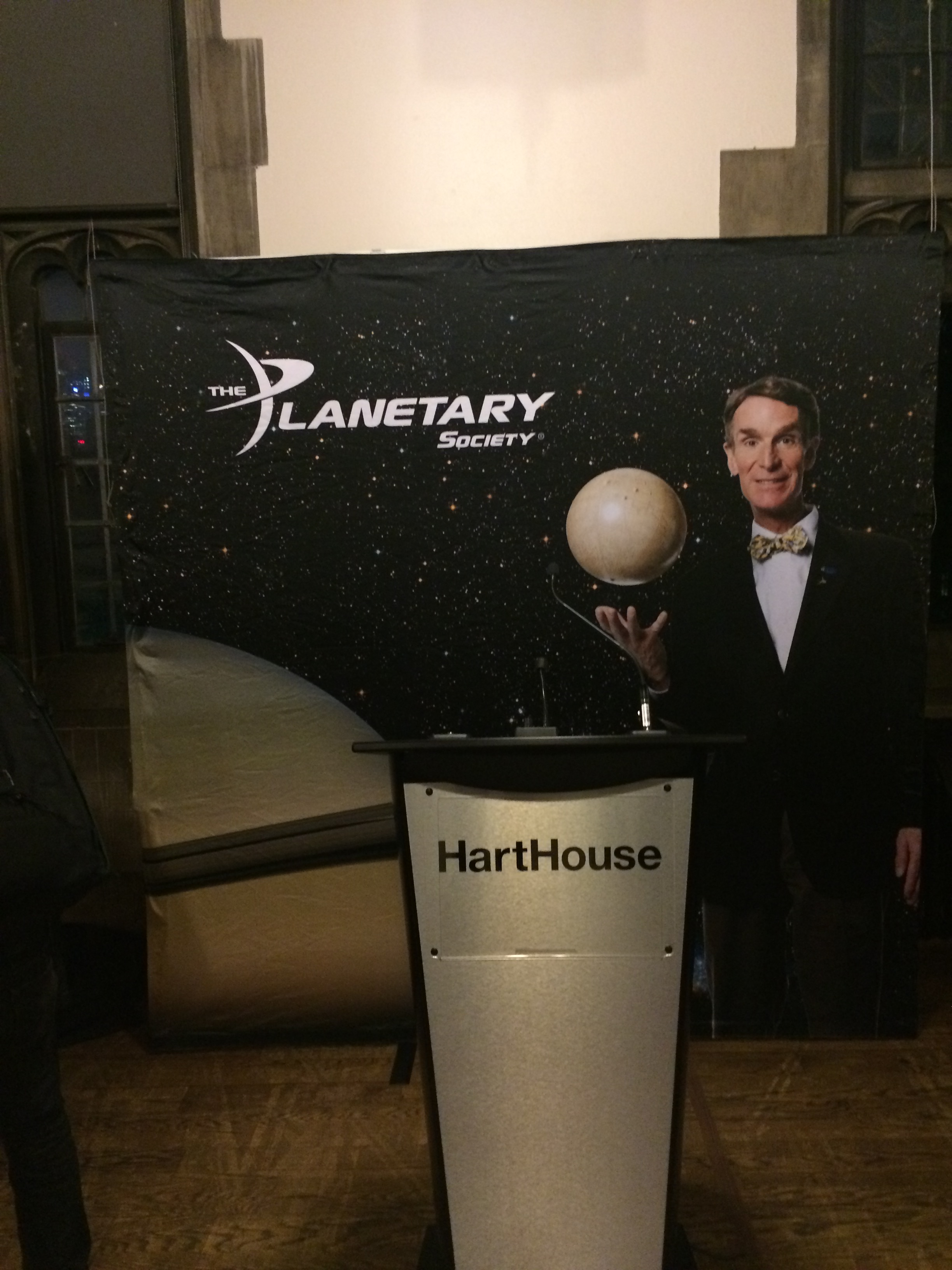 Article Name
The Planetary Society Celebrates Canada's Achievements in Space
Description
The Planetary Society celebrates Canada's achievements in space exploration.
Author
Publisher Name
Onwards and Upwards, by Nicholas Kellett
Publisher Logo