This is part of a series on a 3-week, 3050-km road trip across Wales and Republic of Ireland that my parents, my aunt and I took to retrace some family roots.
We arrived in Republic of Ireland via the Pembroke ferry from Wales. We chose Killarney in County Kerry as our first major stop in the country, due to its central proximity to some of the fabulous hills and coastal scenery in the Ring of Kerry, Dingle Peninsula, and Beara Peninsulas.
We stayed at a great airbnb rental located downtown but tucked away behind the friendly and bustling Killarney main streets. The house was reachable via a very tight bridge over the train tracks. That was a very tight fit for our large rental car (a wide and long Ford S-MAX), but we navigated without issue. Parking soon became good practice for our subsequent driving on the narrow coastal roads. Our hosts were great and the place was a perfect base for our day-tripping.
Killarney Lakes Attractions
Although we used Killarney as a hub for our daily road trips, we found it to be a completely charming and relaxing place in its own right.
Taking advantage of some rare sunlight during our stay, we took a jaunting car (pony and carriage) around part of Killarney National Park. Our very personable driver Michael, referred to as a jarvey, regaled us with area history and local legends. One tall tale recounts how a young pair of lovers, forgetting a stern admonition to put the village lid back on the well every night, got lost in each others' arms. Meanwhile the well overflowed, creating nearby Upper Lake. I think that's a more charming explanation of its formation than "ice age glacial action" 🙂
Halfway through the jaunting car ride we stopped at Ross Castle, an impressive 15th-century ruin.
Muckross House is another nearby attraction that is a great way to get a sense of daily life in the area. It is a bit like getting a tour of Downton Abbey (although it existed a century before the time period of the show).
The Muckross House tour guide had a lively sense of humour and was able to explain in very practical detail what the household customs were like, and what kind of technology the people used in their daily lives. For instance, in the kitchen were tools for sharpening multiple knives quickly, special plates to keep food hot while carrying it from the kitchen to the dining room, and a machine to make ice cream. He was able to make the life in the house seem very vivid and relatable.
Leaving the House, we then wandered amongst the fields and reproduction farm houses on the estate, which were very revealing of rural life. They were complete with peat fires, barn animals and beautiful views of rolling hillsides.
Nearby Torc Waterfall was in full flood due to the rains, which made it seem wild and powerful. It is only a few minutes walk or drive away from Muckross House and well worth a visit.
Road Trip Logistics
We decided to purchase food and snacks for our trips, which made them more flexible and cheaper (since we could elect to stop at a pub or not, as the mood/timing permitted. For food and snacks we usually purchased at a large grocery chain like Tesco's or Aldi's. That had the added fun of feeling like we were experiencing a bit of daily life. Small collapsible cooler bags and frozen water bottles kept our food cool on the road.
To pay for shared expenses, we put an equal amount of money into an envelope. Whenever the money ran out, we put another round of funds in. This trick makes it easy to split the cost of food, gas, and excursions without worrying about small bills.
Killarney is a great home base
We really enjoyed our stay in the Killarney area. I think these reasons helped:
We spent four nights there. This let us explore the many attractions of the area at our own pace.
We planned around the weather: when it was sunny (rarely) we did outdoor activities; when it rained (mostly) we drove around or explored indoor attractions such as Muckross House.
We made sure we had a convenient house to use as a base. Because we rented the whole house we could leave our stuff out during the day. The kitchen allowed us to cook and refrigerate our food. The location near downtown was still secluded enough that we could unwind.
It is also possible that the timing of our visit, in low season (early September), meant the town was not overwhelmed by our fellow tourists.
By the way, The Fáilte Hotel pub is an enjoyable place to unwind in town after a long day driving around. They make a great peppercorn beef stew and have live music (as do many of the other pubs in town).
Update 2016-10-05: Looks like Katie and Vaughan of The Explorers blog fell in love with Killarney too – check out their great post on its charms.
Have you had a chance to visit the Lakes of Killarney? How did you like it?
Edited with BlogPad Pro
Summary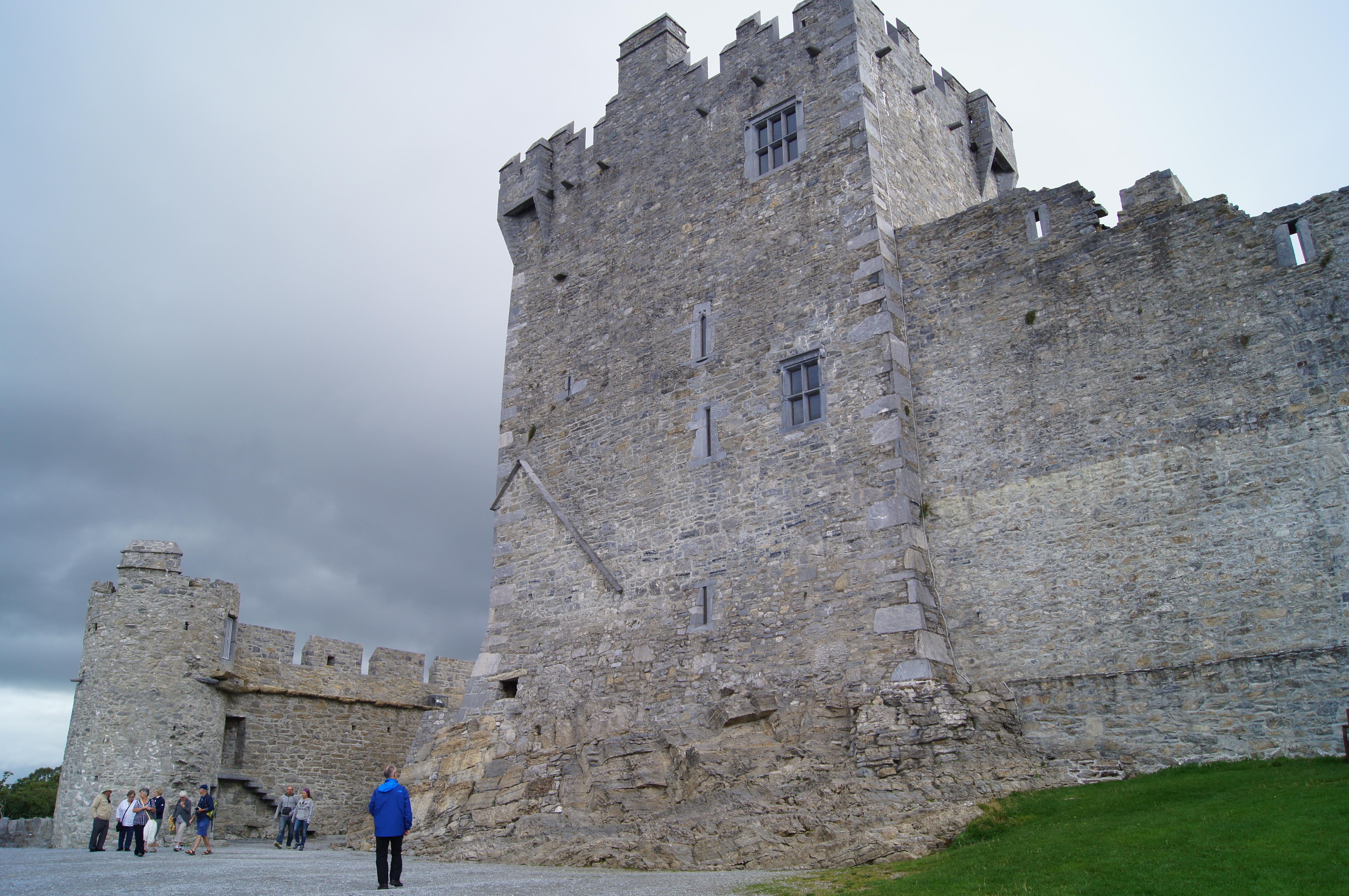 Article Name
Description
Killarney Lakes area is more than just a great base to explore some of Ireland's more famous scenery - it is a wonderful vacation spot of its own.
Author
Publisher Name
Onwards and Upwards, by Nicholas Kellett
Publisher Logo